I admit it. I lurk around the Cardinal message board at mlb.com, and one thing that always strikes me are the number of people looking for some advice about their upcoming first trip to St. Louis to see a Cardinals game. So, I thought I put some thoughts together and post them here. I've probably missed some things since I only get into town once or twice each year, but it's a starting point.




Seating at Busch Stadium

.

I liked both old Sportsman's Park and old Busch Stadium, but neither compare to this place. As you might expect with a new stadium, tickets aren't cheap, and the average ticket price, just under $30, is now about $7 more than the mlb average, but that has been driven up by the number of new premium and all-inclusive seats that include all-you-can eat buffets and unlimited beer and soft drinks. Still, there are lots of reasonably priced tickets available. Outfield Terrace Reserved seats start at $13, bleacher seats are $16, and prices go up from there.

In my wandering about the stands, I personally haven't found a bad seat in the house. The view of the Arch and the St. Louis skyline above the playing field and center field scoreboard is spectacular, and the best views--as you would expect--are found in the seats between first and third base.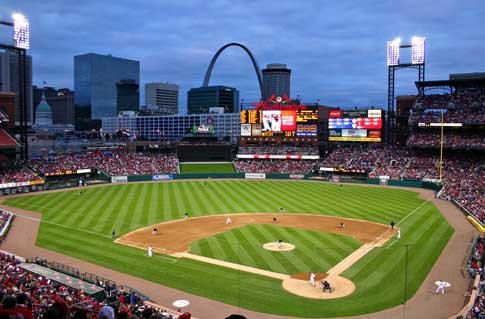 Be careful, though, before purchasing Terrace Reserved seats directly behind home plate. I've never sat in them, but I've heard some people complain that from some the view of the pitcher's mound and/or home plate can be partially obstructed by a ledge for television cameras.

If you want to see into the Cardinals dugout during the game, be sure to sit on the third base side. Oh, there is something else to consider if you are attending a day game; the sun. The bleacher seats face southwest and, at times, look directly into the afternoon sun, which may bother some folks.

There is no need to worry about where to sit just so you can be near a concession stand; refreshments are sold all over the place. That said, if you're looking for a certain type of food, be aware that some items are only sold at specific stands, and you may find yourself walking a good distance to get what you want. There is also no need to worry about sitting near a restroom, there are plenty of those too, and lines are almost non-existent, even for women.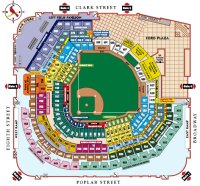 To help you decide where to sit, click here or on the seating chart. The easiest way to purchase tickets is through the Cardinals website schedule. After you've picked a date, just click on the little green box with a "T." When you're picking a date, you may want to consider attending on a promotion day when some company will be giving something away. If you use the link above, the game days with promotions will be identified with a boxed *. If you click on the *, you be able to view details of the promotion.

If you find that a game you want to attend is soldout, don't hesitate to purchase a Standing Room Only ticket for $13 as long as you think your feet can handle it. There are numerous SRO locations (behind the home plate box seats, behind the bleachers, along the baselines, etc.) around the park, all with pretty good sight lines. Generally, there is no need to arrive early to secure a spot unless you want to stand at the field level.

If you aren't up to SRO tickets, and you still want to see a specific game, you may want to try the Cardinals-sponsored Prime Seat Club. After paying a one-time $35 membership fee, you can purchase unused season tickets at a 20% mark up over the gate price. It's not cheap, but usually it is a less expensive than buying similar tickets at StubHub.




What to wear



If you are a Cardinal fan--or if you just want to fit in--why not try something, ummm . . . . red; or something that includes the "birds on the bat" logo. That's what most of the 47,000 people in the place will have on. If you're not part of Cardinal Nation, don't be afraid to wear your team's colors if you're following along on a road trip. Cardinal fans aren't into abusing out-of-towners. That said, if you are a Cubs or Mets fan, and you are wearing a Cubs or Mets jersey, and you are drunk, and you are shouting obscenities or otherwise behaving loutish, expect some problems.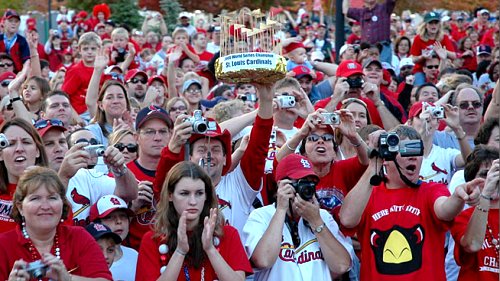 Need something to wear?



Getting there

I doubt that you'll encounter problems driving to the ballpark; I've never had any. Traffic to the stadium is usually smooth and swift except during rush hour. Sometimes things get a little backed up after a game, but if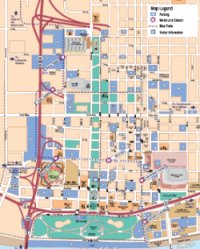 you plot a route back to your hotel using one of the major streets leading out of the downtown area, you won't end up stuck on an Interstate entry ramp. There is plenty of parking available, and you can click here or on the map to see the locations of the lots. About half of the lots are in the $10-15 range, but there are almost as many at $10 and under; you just have to walk a little farther. Okay, maybe I shouldn't publicize this lot since it's my favorite, but since I only get back to St. Louis for a couple of games each year, what the heck. I almost always park at the public garage at Pine and Seventh; it's a pleasant, short walk to the ballpark through Kiener Plaza and usually costs around $5.

You can also park well outside of the downtown area and take the MetroLink right to the stadium. Single rides are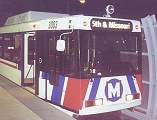 only $2.00 each, and you can purchase a day pass for $4.50. Here's a link to a map of the system. While getting to the park via MetroLink is quick and easy, be aware that after the game, everyone who came to the park that way will be heading for the station along with you, and the wait for a train could be significant.

You may have seen a headline or two recently stating that St. Louis moved up to number one on a most dangerous cities list for 2006. What the brief newspaper articles didn't say was that the same Morgan Quinto Press study that used FBI data to compile its most dangerous cities report also used FBI data to compile a most dangerous metropolitan area report. Guess where St. Louis ranked in that one. . . 129th out of 344.



Morgan Quitno's "Most Dangerous Cities" ranking has been criticized as a statistical half-truth, since it does not adjust rankings of cities with wide area city limits (Houston, Jacksonville) compared to cities with inner core limits (St. Louis, Atlanta). Houston's city crime statistics, for instance, are diluted by lower crime in affluent areas within its broad city limits, whereas almost all the low crime affluent areas of St. Louis are outside its city limits, which constitutes only 12.5% of its metro area. Problems with Morgan Quitno's "cities" ranking becomes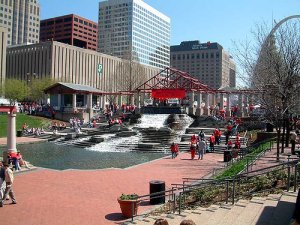 evident when compared to its most dangerous metro area rankings. Morgan Quitno puts Houston at number 22 out of 344 metro areas, but places St. Louis almost 100 slots lower, with no explanation for the disparity in the two lists. (from Wikipedia)

So . . . don't let the hyped-up dangerous city report concern you if you're going to be staying in downtown St. Louis. It's safe to walk all around Kiener Plaza, Laclede's Landing, and the downtown ballpark area before and after ballgames; yes, night games too. Just stay south of Delmar Boulevard, as St. Louis crime is primarily concentrated well to the north of downtown--that's where the Griswolds made their wrong turn in

National Lampoon's Family Vacation

.


Arriving at the game

Local fans in St. Louis seem to get to the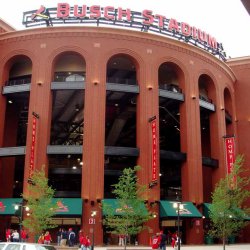 ballpark earlier than in a lot of other places. You should too.

The outside of the stadium is pretty interesting if you haven't been there before. As you circle the stadium you'll see life-size statues of famous Cardinals including Musial, Slaughter, Brock, Schoendienst, Smith, and Gibson. If you look closely at the stadium facade, you can see ninety-four small, embedded medallions showing historical Cardinal logos; replicas are, of course, available for sale at the team store. On the pavement, you can read fan-purchased commemorative bricks surrounding larger plaques remembering one hundred significant events in Cardinal history. You'll find several souvenir stands open as well. If you're planning on eating before the park opens, be sure to do so on the way from the parking lot as there is no food available immediately outside the park; of course, that will change once Ballpark Village opens, hopefully in time for some of the 2007 season.

The gates generally open two hours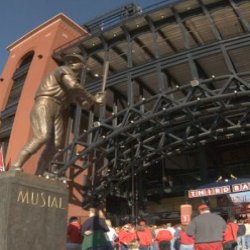 before game time. If you enter then, you arrive right in the middle of Cardinal batting practice. Visitor batting practice begins approximately 80 minutes before game time.

The only restrictions on what can be brought into the park are those that are imposed by Major League Baseball. The stadium inspection policy used to be posted at the Cardinals website, but the last time I looked, I couldn't find it. This is how it used to read:



"In conjunction with a league-wide policy established by Major League Baseball, the St. Louis Cardinals reserve the right to inspect all items entering Busch Stadium. Guests may carry in items including: backpacks, purses, diaper bags, fanny packs and soft-sided coolers that do not exceed a maximum size of 16" x 16" x 8". Bags that exceed this size are not permitted in the stadium. Alcohol, bottles, cans, thermoses, hard-sided coolers, hard plastic cups/mugs are not permitted. Non-alcoholic beverages including water and soda in open cups or in clear plastic bottles no larger than 2 liters are allowed. All items will be inspected."


The Family Pavillion, sponsored by U.S. Cellular, also opens two hours before game time. It is located between Gates 1 and 6 on Level 1 and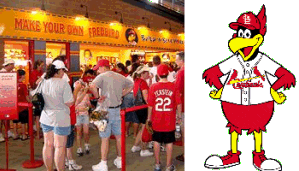 includes a Batting Cage, T-Ball Cages, Speed Pitch, and other similar activities. Admission is free, but some activities and games require a small fee.

If you have a little one, or even if you don't, you may want to visit the Build-A- Bear "Make-Your-Own- Fredbird" stand located behind Section 153 (between Gates 1 and 3 on the Level 1 Main Concorse). Lines can get long, especially from about the fifth inning on, so if you want your own Fredbird without an hour wait, I'd advise going before the game.


Eating and drinking in the ballpark

There is a nice variety of concession stands spread throughout the stadium, and prices are about average for average stadium fare. Expect to pay around $15-25 per adult per game. Unfortunately, the Cardinals have opted not to serve any regional specialties, not even St. Louis Style Ribs, which is surprising since they have some very good Baby Back Ribs at the Broadway BBQ. If you want to sample some local fare, you'll have to do that before or after the game.

Actually, you can find one group of local specialties at the ballpark: Anheuser-Busch products and lots of them, but only until the 7th inning. After that, beer sales cease. The Cardinals also have a Designated Driver program. If you are at least 21 years old and have a valid driver's license, you can sign up at kiosks around the park. You'll get a special key chain and at least one free soft drink or O'Doul's. You'll also be eligible for free give-aways during the game and may find your name splashed across the scoreboard.




Other area eats and drink



There are several nearby places to grab a bite or a drink either before or after a game.




Al Hrabosky's Ballpark Saloon, 800 Cerre Street. It is what it is; a ballpark saloon with a good selection of bar food and a nice collection of baseball memorabilia. It serves cheap drinks to a relatively young crowd, so it can get a little wild. To help you put things in perspective, a "Girls Gone Wild" video was filmed here. It's not uncommon to find a Cardinal or two after the game.



Dierdorf & Hart's Steakhouse, 701 Market Street. That's as in Dan Dierdorf and Jim Hart, stars on the Football Cardinals during the only good years the Bidwells' team ever had in this city. It's an upscale steak house, so you'd probably feel uncomfortable wearing shorts and a Cubs Suck t-shirt.

Dooley's Ltd., 308 N. Eighth Street. Unfortunately, I think Dooley's has gone out of business. If so, that's too bad because it was a traditional lunchspot and afterwork hangout for downtowners, where visitors wouldn't feel out of place. It would usually close at 7 pm unless someone was still drinking at the bar. It was a nice place for a quick pre-game burger, steak, or chicken dinner.


Eat Right Diner, 622 Chouteau Avenue. "Eat right, or don't eat at all." No, I'm not kidding. It looks like a dump, but it's not. It's one of the last great downtown diners. Six hamburgers for $4.50; how can you beat that? After drinking all night at Hrabosky's, stop by for a slinger.



F15teen, 1900 Locust Avenue. Jimmy Edmonds' may not be playing this year, but his relatively new restaurant and lounge is still going strong. It's a nice place, and there isn't a single piece of sports memorabilia in sight.



Mike Shannon's Steak and Seafood, 620 Market Street. This is another upscale steakhouse. It is a little dressy, but you should be treated right on game days even in casual game attire. Mike Shannon broadcasts a live sports show from here after Friday night home games.



Paddy O's, 618 S. Seventh Street. This is the original St. Louis ballpark bar, opened by a transplanted Bostonian in the mid-1990s. It's usually a little more crowded than Hrabosky's, but a little less boisterous. There are frequent ballplayer sightings after the game, even players from the visiting teams.



St. Louis Bread Company, 116 N. Sixth Street. You've heard of Panera Bread, right? Well, that company originated in St. Louis and its local restaurants never changed their original names. The menus are exactly the same as all of Panera Breads across the United States.



Laclede's Landing - Laclede's landing is a nine block restaurant district in one of the oldest sections of town just north of the Arch. The district features cobblestone streets, carriage rides, about twenty interesting restaurants, clubs, and bars, and some of the most oldest remaining commercial and industrial structures in the city.


---

Further afield, but Cardinal related

J. Bucks - The J. Bucks small chain of restaurants in Clayton, West County, Fairview Heights, and O'Fallon, opened in 1999 and bear the name of--you guessed it--the Buck family: Jack, Joe, and Julie.

Ozzie's - Ozzie Smith's mega-sports bar and restaurant opened in Westport Plaza in 1988. The menu selection is nicer than most sports bars. The Wizard is occasionally around to sign autographs.

Pujols 5 Grill - Albert opened his restaurant, also a high-class sports bar and also in Westport Plaza, in 2006.


---

The best sports bar in town

St. Louis Sports Zone - By far, the Sports Zone is the best sports bar and restaurant in St. Louis. It's located in Kenrick Plaza, along old Highway 66 just outside the city limits in Shrewsbury, my hometown.


---

Regional food favorites


Gooey Butter Cake

: Somebody once told me that if you find three or more St. Louisans together around ten o'clock in the moring with a pot of coffee, there's 90% chance that they'll also have a gooey butter cake on the table. Gooey butter cakes are made by combining butter, sugar, corn syrup, and shortening together, pouring the mixture into dough-filled baking tins, sprinking a layer of confectioners sugar on top, and popping them into ovens until the dough is golden brown and the filling develops a pudding-like consistancy. You can find gooey butter cakes at most bakeries in the city, especially the German bakeries that dot the southside, but if you're in a hurry to find one, just stop at any of the ubiquitous Schnucks or Dierbergs supermarkets; you're sure to find one at the bakery counter.
Gus's Pretzels: I grew up on Gus's pretzels, and they are great. The pretzels you find at shopping malls pale in comparison. Gus's pretzels are about an inch thick and come in two styles: traditional 4" pretzel twists and foot-long straight sticks (everyone's favorite). They are soft and chewy and coated with coarse salt. At one time you could find a pretzel vendor peddling paper bags holding a half-dozen of the things on street corners throughout the city, especially on Sundays. Those guys are a little harder to find today. Now, the best way to get some of the treats is to visit Gus's Pretzel bakery, but that's actually for the better because when you buy them at the store, they're hot from the oven. One thing to remember, though, don't buy any more than you can eat in one day. The pretzels don't have any preservatives and by the second day will have become hard as a rock. Gus's is located down by the brewery at 1820 Arsenal Street, just off I-55.

Jack Salmon Fish Fry: Hake has traditionally gotten a bad rap in the United States because some species are not all that pleasant to eat. Thus, those species that have sweeter, delicate, white flesh often go by other names in different parts of the country: whitefish, whiting, Pacific Whiting, and in St. Louis, Jack Salmon, which is the fish of choice at most local fish fries, where they are usually skinned and coated with corn meal breading before being dipped into the hot oil. The best place to try Jack Salmon is at a weekend fishfry sponsored by any one of the area's Catholic parishes, and the best way to find one one of those is to check the "Calendar" section the "The St. Louis Review," the weekly newspaper of the Archdiocese of St. Louis, which usually includes a list upcoming fish fries. If you can't find a fishfry through the Review, you can always visit one of the many small neighborhood tavern-restaurants that have Jack Salmon on the menu, like Hodak's Restaurant at 2100 Gravois Avenue.

Molasses Puffs: Molasses puffs are the St. Louis version of an old-time candy that is fairly hard to find today. As far as I know there are only two other regional pockets in the United States where it is still popular: Buffalo where it is known as Sponge Toffee/Candy and in some places in Northern California and Oregon where it is called Sea Foam. The candy has a sweet and sticky, but very rigid and airy, foam-like center, which is covered with a rather thick layer of chocolate. (There is a mass produced candybar called Violet Crunch that is somewhat similar, but nowhere near as tasty.) Several regional department stores used to sell Molasses Puffs at their candy counters, but now you'll probably need to make a trip to one of the Bissingers stores, Merbs (4000 S. Grand Avenue), or Crown Candy Kitchen (1401 St. Louis Avenue) to find some. Occasionally Molasses Puffs also turn up on the shelves of Straubs Fine Grocers.

Red Hot Riplets: Red Hot Riplets are a regional style of potato chips flavored with a hot and sweet barbecue seasoning. You can also find a "Cheesy" variety. They are available at most mom-and-pop food stores throughout north St. Louis and usually available at Schnucks grocery stores. The chips gained national exposure when referenced in piece appropriately entitled,

Red Hot Riplets

, by rapper, Murphy Lee.


St. Louis Barbeque

: There are two types of barbeque popular in St. Louis, spare ribs and pork steaks.



St. Louis Style Barbecued Spare Ribs

differ from other types in two main areas: the cut and the rub/sauce. The St. Louis cut removes the lower fatty parts of the slab (which are often prepared as "rib tips") and all of the tough membrane, keeping only the center cut of the rack. This results in ribs with long thin bones and a lot of tender meat without much fat or gristle. Once the rack has been trimmed, it is coated with a rub made of brown sugar, salt and pepper and rested for several hours. The ribs are then slowly smoked; when done, the meat will have pulled back slightly from the ends of the bones. While some folks like their ribs dry, most prefer to slather them with a semi-thick, sweet and tangy, vinegar and tomato based sauce, like

Maull's

, often just before removing them from the smoker. The finished ribs are falling-off-the-bone tender as opposed to other firmer styles, like the smaller baby backs, which are usually cooked faster and at higher temperatures. If you've ever eaten ribs at a Famous Dave's or Smokey Bones, you've probably had St. Louis style barbecue ribs. You can hunt around the area for old style ribshacks, but your best bet to find St. Louis style barbeque ribs quickly is to visit any

Bandana's Bar-B-Q

.




Barbecued Pork Steaks

are another St. Louis specialty, but almost no restaurants have them on the menu. Pork steaks, cut from the center of a pork shoulder, are not barbecued in the tradtional smoking sense. Rather they're slowly grilled over an open fire and, once done, they are simmered in a traditional St. Louis style barbecue sauce. The best way to try them is to ingratiate youself to a local and get invited to a backyard cookout. If that doesn't work, make a trip up out Interstate 44 toward Eureka and visit

Super Smokers

.

St. Louis Style Pizza: You can find traditional Italian, New York, Chicago deep dish, Midwestern thin-crust, and Domino's-style pizza throughout St. Louis. You can also find a type of pizza that is unique to the area. The Imo family is usually credited with originating the St. Louis Style Pizza in the mid-1960s. When you see St. Louis Pizza on a menu, it means that the pizza has a midwestern type thin crust (no yeast in the dough), is topped with Provel (a combination of white cheddar, swiss, and provolone) instead of mozzarella and/or ricotta, and will be cut into 3" squares instead of slices. The three largest St. Louis style pizza chains are Imo's Pizza, Elicia's Pizza, and Cecil Whittaker's Pizzeria. They are located all over the city, and most deliver.


St. Louis's Favorite Hamburgers

:



Steak 'n Shake

- Yes, I realize that you can now find find Steak 'n Shakes in most mid-western and southern states, but St. Louis was the site of the chain's first major franchising effort back in the 1930s and nowhere, except probably for Indianapolis, are there more per capita than in St. Louis. Steak 'n Shakes are all over town, so if you're looking for a quick lunch, try a steakburger or any of the patty melts along with a frosty malt, side-by-side shake, or orange freeze.




White Castle

- If Harold and Kumar lived in St. Louis, their movie could have never been made. Again, I realize that White Castles can be found throughout a good bit of the Midwest and have even cropped up in New York and New Jersey, but the distribution area is still rather limited. If you have a slyder craving, you can take care of it at any one of numerous White Castles throughout the metropolitan area.

St. Louis's Favorite Sandwiches

:



Amighetti's Special Sandwich

- The Special is made with ham, roast beef, Genoa salami, brick cheese, lettuce, tomato, pickles, onions, pepperoncini and secret dressing on freshly baked Italian bread. The only place to find theses sandwiches are at any of the three Amighetti Bakeries: 5141 Wilson Avenue on The Hill, 9438 Manchester Road in Rock Hill, and 209 Village Square in Hazelwood.




Gerber Sandwich

- A relative newcomer to the St. Louis food scene, the Gerber was first prepared by Patrick Stoll at Ruma's Deli (now located as 7329 Watson Road) in the early 1970s. The Gerber is a toasted open-faced sandwich made garlic bread, ham, Provel or provolone, and sprinkled with paprika. It's usually found at small grills and deli's like DB Sports Bar (1615 S. Broadway in the Soulard area) and Smugala's Pizza (3730 S. Lindbergh in Sunset Hills), both of which Ruma's is threatening to sue for trademark infringement.




St. Paul's Sandwich

- I don't think anyone knows how this sandwich got it's name, but it doesn't have anything to do with St. Paul. It consists of one Egg Foo Young patty (no brown sauce) with bean sprouts, mayo, and dill pickles between two slices of standard white sandwich bread. Occasionally, it's served with some lettuce and a slice of tomato. The St. Paul can be found in almost every one of the numerous, small, mom and pop chop-suey houses (not to be confused with Chinese restaurants) in St. Louis. Unfortunately almost all of them are located north of Delmar Boulevard, which--if you read my notes on crime above and remember the Griswolds--you will know is an area tourists should avoid without a local host. The one place that I know tourists can safely try a St. Paul is the Park Chop Suey House (that's not the red building pictured here), located at 1711 Park Ave at Lafayette Square. To complete your north St. Louis lunch treat, pick up a

Pineapple Vess

and a bag of

Riplets

to go along with your St. Paul.




St. Louis's Favorite Softdrinks

:



Fitz's Root Beer

: Fitz's Root Beer was first produced in the late 1940s to serve with hamburgers at Fitz's Drive-In. It went out of production when the drive-in closed in 1970, but the bottling line reopened again with an attached restaurant in 1985 at 6605 Delmar Boulevard. Fitz's now sells a variety of flavored sodas, and its restaurant, with a view of the bottling process, is a St. Louis favorite.


Vess Sodas

: Vess "Billion Bubble Beverages" have been available in St. Louis for over eighty years, and the company's giant neon bottle sign, originally located at the corner of Hampton Avenue and Gravois Boulevard, is now found at 520 O'Fallon Street, just north of the Rams' Edward Jones Dome. While Vess produces a wide variety of flavors including Cola, Root Beer, Ginger Ale, Black Cherry, Blue Raspberry, Cherry Cola, Mountain Vess, Peach, Pina Colada, Pineapple, and Strawberry, it's most popular products are a distinctive Red Cream Soda and Whistle, an orange soda that at one time gave Orange Crush a run for its money. It's getting harder to find all of the Vess flavors, but usually the shelves at Dierberg Markets will have some available.




Slinger

: A slinger is a tradtional anti-hangover breakfast plate served at small St. Louis grills and diners. The basic slinger usually consists of two hamburger or cheesburger patties, served on a plate with hash browns and two eggs (any style), a large dollop of chile (with or without beans) and topped off with onions and grated cheese. The creation is usually attributed to the string of O.T. Hodge Chile Parlors (that's how Mr. Hodge spelled 'chili') that floursihed in the city following the 1904 Worlds' Fair. Now, only one recently opened O.T. Hodge Chile Parlor remains at 250 South Florrisant Road. You can also get a great slinger at the Eat Right Diner at 622 Chouteau Avenue.
Ted Drewe's Frozen Custard: Although Ted Drewe had been in the ice cream business since 1929, once he opened his stand at 6726 Chippewa (old Highway 66), business never quit booming. The house specialty is called a "Concrete," a super thick shake that can be ordered in a seemingly infinite number of flavor combinations. If you'd rather have a sundae, ask for the Cardinal Sin; it's topped with hot fudge and tart cherries. The place is packed on summer evenings and although it is several miles from Busch stadium, many fans who live west or south of the ballpark stop by on their way home. By the way, you'll need both a spoon and a straw to finish your concrete; a spoon initially and a straw once it melts.

Toasted Ravioli: Toasted or Fried Ravioli was "invented" in the old St. Louis neighborhood known--as Time Magizine noted--"unselfconciously as Dago Hill." The Hill, as it is more politely referred to today was established in the late 1880s as a 50-square-block southside enclave of northern Italian immigrants;



Kings Highway . . . the creek . . . railroad tracks . . . that was our boundary! . . . Up the Hill we had the Blue Ridge Gang—Irish. To the northwest we had the Cheltenham Gang—a mixture of Germans and more or less natives. East of Kings Highway was the Tower Grove Gang, what most of us refer to as Hoosiers, people up from small towns . . . then the Dog Town Gang to the west. . . . You go beyond that and you get your ass kicked around so you stayed within your limits. (Lou Berra, Journal of Sports History, Summer 1982)



Anyway, The Hill is covered with Italian restaurants that rival those found anywhere along Arthur Avenue or Mulberry Street in New York. Depending upon which legend you choose to believe, toasted ravioli came into being as the result of kitchen accidents at either Oldani's (now Mama Campisi's at 2132 Edwards Street) in 1943 or Angelo's (now Charlie Gitto's at 5226 Shaw Avenue) in 1947. Regardless, although you can now order the appetizer at any Olive Garden, it isn't quite the same as the platters served at any of the restaurants on The Hill.

By the way, if you make it to The Hill for a meal, you may want to drive by the 5400 block of Elizabeth Avenue where the boyhood homes of Yogi Berra and Joe Garagiola sit across the street from each other at 5446 and 5447 while Jack Buck's earliest St. Louis residence is at 5405.




Where to stay.



It's easy enough to get to Busch Stadium from anywhere in the bi-state region so it really doesn't matter where you stay while visiting the Cardinals. That said, there are several hotels within easy walking distance of the ballpark that offer special package promotions geared to folks attending a ballgame:






Other things to see and do

.

If you're spending additional time in St. Louis and looking for something to do, why not check out some of these:

Anheuser-Busch Brewery Tour: Unless your an extra snooty micro-brew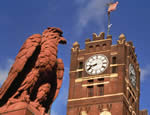 fanatic who detests light American lagers, a visit to the historic Busch flagship brewery is worth your time. The brewery is just south of downtown and easy to find. Tours include the formal stable home of the famous Clydesdale hitch, the brew house, and the packaging plant. Oh, all the tours end with a stop at the brewery's large gift shop and its hospitality room where adults get free samples of Anheuser-Busch products, and kids get courtesy soft drinks. Tours run daily.




Bowling

: Are you snickering? Bowling has always been a big deal in St.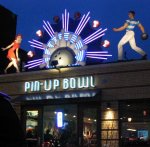 Louis, ever since the days of local heroes Dick Weber, Ray Bluth, and Don Carter. If you've watched

The Big Lebowski

more than once or if you ever wasted more than a couple of Saturday afternoons listening to Chris Shenkel do the play-by-play for ABC TV's championship bowling shows, you might be interested in visiting the International Bowling Museum and Hall of Fame just across the street from Busch Stadium. If you'd like to roll a few frames, St. Louis is loaded with bowling alleys. One of the most interesting is the retro-chic Pinup Bowl and Cocktail Lounge, where it's not unusual to find Nelly having a good time with some of his Saint Lunatic crew. As an alternative, you might want to visit one of the small bowling alleys run by local Catholic parishes. Strange as it may seem, church lanes were quite common in St. Louis in the past and served as community social centers for many years. Several are still in operation. Why not stop by the Epiphany Lanes, at 3164 Ivanhoe, where shoes rent for $.75 and open bowling is only $1.25 a game.




The Blues

: No, not the hockey team; the music. St. Louis has a long
and rich blues history. Heck, the longest-lasting popular blues song ever,

The Saint Louis Blues,

by W. C. Handy, references the city, so it seems only to make sense that there are more active blues musicians in St. Louis than anywhere else in the county. Traditional St. Louis style blues is piano-based with an uptempo, ragtimey sound. Today, however, all types of blues are heard in the city. If you'd like to spend some time in one of the local blues clubs, you can see whose playing at the STLBlues.net entertainment calendar.




Casinos

: There's no need to make a separate Las Vegas or Atlantic City

trip if you want to visit a first class casino; there are several in St. Louis:

the Ameristar Casino

,

the Argosy Alton Belle

,

the Casino Queen

,

Harrah's St. Louis

, and

the President Casino on The Admiral

. While the President Casino on the Admiral isn't necessarily the fanciest, it's my favorite. That's because The Admiral, a four-deck steamship with over 200,000 square feet of floor space, has been operating on the Mississippi River for 100 years. It began life as a railroad transfer boat in 1907, and was rebuilt into the silver, stream-lined art deco vessel of today in the late 1930s. The best part about the Admiral is that it is moored at Laclede's Landing just a short walk from the ballpark.



Chuck Berry at Blueberry Hill - "If you tried to give Rock and Roll another

name, you might call it Chuck Berry" - John Lennon. Believe it or not, the Grandfather of Rock, 80-year-old Chuck Berry, still performs his legendary show at the Blueberry Hill's Duck Room at least once each month, usually on a Wednesday evening. If you want to see him duckwalk across the stage while performing all of his hits, you'll need to purchase tickets a month in advance. Even if he's not performing, you can see a nice collection of related memorabilia, have casual dinner, and catch some of the best local and visiting bands at Blueberry Hill.


Forest Park: Forest Park is the heart of St. Louis. It was

the site of the 1904 World's Fair and is almost twice as large as New York's Central Park. It includes several museums, a large lake and boathouse, three golf courses, the city's statue of St. Louis, and much more. Two of it's components are major attractions in their own right. The St. Louis Zoo (rated by Zagats as the top zoo in the country) is in the park as is The Muny (the nation's oldest and largest outdoor theater where you can watch a traveling Broadway show for free). Additionally, Forest Park is the site of numerous special events throughout the year, such as the St. Louis Balloon race and the St. Louis Shakespeare Festival.


Gateway Arch Riverfront and the Jefferson National Expansion Memorial.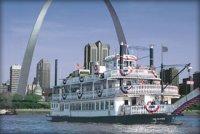 Nothing typifies St. Louis better than a steamboat cruising past the 630 foot Gateway Arch that stands on the bank of the Mississippi River right in the heart of downtown. On a clear day, the view from the top of the Arch is spectacular, but don't worry about wearing youself out on a long climb. Trams, that always remind me of giant clothesdryer tubs, carry visitors both up and down. If you have any interest at all in American history, the Museum of Westward Expansion, located beneath the Arch, is well worth a visit. Sightseeing riverboats are located right on the levee, just down a flight of steps from the base of the Arch.


Grant's Farm and the Clydesdales - Grant's Farm has been rated as the 7th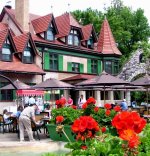 best family attraction in the country, and I wouldn't be at all surprised if you've never heard of it. It is a St. Louis institution. Althougth at one time this was the summer home of the Busch family and it is still owned by the brewery, prior to the Civil War Ulysses S. Grant attempted to farm this same area, and his tiny cabin remains on the grounds. Today, this wildlife preserve is a great place to take younger children as petting areas and small animals abound. Just like the brewery, Grant's Farm has a hospitality area that serves complimentary Anheuser-Busch products. Additionally, the Busch Clydesdale stables, which are open to the public, are adjacent to the Grant's Farm parking lot. Admission is free, but parking is $8 per car.


Laumeier Sculpture Park - One of the world's premier sculpture parks,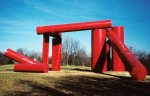 Laumeier contains over 100 acres of parkland filled with approximately 450 kinetic, static, natural, mechanical, whimsical, and natural sculptures by noted contemporary artists carefully installed in large meadows and along paved paths and hiking trails. Smaller works are displayed in an on-site museum gallery. The largest sculpture, The Way by Alexander Lieberman, is 65 feet tall, 102 feet long, and weighs more than 50 tons. If you want to get a way from the city and spend some time walking in the woods, you can't beat this park.


Museum of the Dog - The American Kennel Club's Museum of the Dog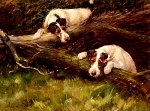 displays over 700 originals of the best dog art (paintings, sculptures, prints, porcelains, etc.) in the world. The collection includes original works by Edwin Landseer, William Maud, and others. The museum also houses the All-Star Dogs Hall of Fame. I bet you never guessed there was a museum like this. If you're a dog lover, consider spending an hour or two browsing through the colletion. There is also a nice gift shop with many one-of-a-kind and exclusive works of art for sale.

Museum of Transportation - Formerly known as the National Museum of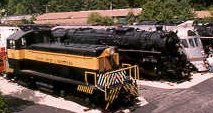 Transport, this is one of the best railroad collections in the country. The outside collection includes over 33 steam locomotives, 27 diesel locomotives, 10 electric locomotives, 45 freight cars, 31 passenger cars and more. The museum also has nice collections of trolleys, automobiles, and a few river vessels. The museum even houses a section of the Coral Courts Motel, one of the first "modern" motels and long-time landmark on Route 66.


St. Louis Cardinals Hall of Fame - The St. Louis Cardinals Hall of Fame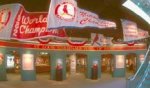 contains over 100 years of memorabilia related to the team. All of the team's worlds series and pennant winning teams are featured with displays including jerseys, equipment, rings, balls, programs, scorecards and more. Special displays recognize all of the Cardinal's past stars, and there are sections devoted to the old St. Louis Browns of the American League and the St. Louis Stars of the Negro League. The museum is located right at stadium plaza in the same building as the International Bowling Hall of Fame.


Shaw's Garden (The Missouri Botanical Garden) - Shaw's Garden was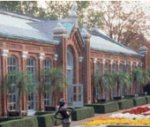 founded in 1859 and is one of the premier institutions in the world devoted to the botanical research and study. Better yet, for tourists and locals it is also one of the finest parks in the world as well. The Garden encompasses approximately 80 acres of horticultural displays including a 14 acre Japanese garden and the world famous Climatron conservatory. Open, with beautiful permanent and rotating displays, year round.


Six Flags St. Louis - What can you say; it's a Six Flags, and one of the

first three to be built. Six Flags St. Louis contains all the standard thrill rides with seven major roller coasters including the Screamin' Eagle, a wooden roller coaster, which at one time held the record for the largest, longest, and fastest roller coaster in the world. The newest section is Bugs Bunny National Park, a themepark within a themepark that is designed for families; all of it's rides can be enjoyed by infants, older kids, and adults.


Union Station - Union Station was once the largest and busiest train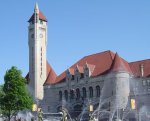 station in the world. Today it houses one of St. Louis best shopping and entertainment venues containing a luxury hotel, indoor lake, ten screen movie theater, festival/concert plaza, food court, railroad museum, two gigantic ballrooms, and approximately 100 specialty stores and restaurants. I have an especially fond place in my heart for Union Station as my great grandfather was one of the architects who assisted Theodore Link in its design.


---
For more information: