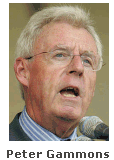 Hall of Fame baseball writer Peter Gammons has reported that when Jim Edmonds joined the Cardinals in 2000, Mark McGwire telephoned the centerfielder before he ever left California and told him, "Now you're going to find out what baseball really is, what it should be. Now you're playing in the best baseball town in America, and you're going to love the experience." When Edmonds did arrive in St. Louis, he was greeted by McGwire in the clubhouse. "Welcome to baseball heaven!" McGwire told him.
Several cities are proclaimed by their local fans to be the best baseball town in America; just as those same fans have self-proclaimed themselves to be the best baseball fans in America. You can find such claims in the hometown papers of Boston, Chicago, and New York, and you can find them in the internet message boards and blogs of Red Sox, Cubs, Yankee, and Mets fans as well. No doubt, those are great baseball cities with great fans, but . . . if you do a search of national newspapers and media outlets for the past twenty years on ProQuest or other similar electronic databases, the only city you'll find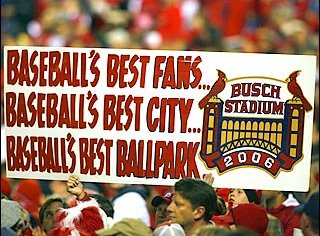 identified by the
The Sporting News
,
Sports Illustrated
, ESPN, and the sports pages of major national newspapers to be the best baseball town in America is St. Louis, and the only fans that have been identified by the national press as the best baseball fans are those of the Cardinals.
ESPN Magazine
said it best on 10 October 2002, "St. Louis is a baseball town. Always will be. And not just any baseball town, but the best baseball town in the country, with the best baseball fans in the country." Seventeen years earlier, Peter Gammons, despite his life-long association with Boston and the Red Sox, more adamantly proclaimed, "St. Louis is the best baseball city in the world."
And, it's not just the national press. When a columnist from the Los Angeles Times posed the question to Tony LaRussa during the 2006 World Series, he responded, "I go by comments from players, and I think that they say St. Louis is the best because fans are as enthusiastic as in other places but are probably more fair-minded. You can get booed here some, but you're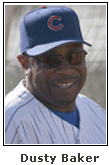 not going to get embarrassed.... Here, you never see nastiness from our fans."
Dusty Baker, the former San Francisco Giants and Chicago Cubs manager agrees, "
This is the best baseball town in America. There's not another town like it. Every ballplayer knows
i
t, and everybody would love to play here because these people know their baseball. These folks know the game, love the game. I love coming here."
Mike Shannon, former Redbird and current Cardinal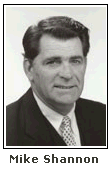 play-by-play announcer elaborates, "
This is a town that not only loves its players, not only loves the game, but understands that the Cardinals are all about history. They've been lovin' the Cardinals forever. They've been lovin' the Cards since Dizzy. They've been lovin' the Cardinals since the Gashouse Gang. They've been lovin' the Cardinals since Gibby and Ozzie. And now they're loving this group of Cardinals. And baby, it ain't no fad, either."
You bet it ain't, and you bet that the fans know the team history. In fact, the St. Louis fan's legendary fascination with Cardinal tradition has been snidely described as "ancestor worship" by a
Washington Post
sportswriter, but that's not too far from the truth. Cardinal fans don't take kindly to any attempt to mess with that tradition. During Frank "Trader" Lane's very brief stint as General Manager in the mid 1950s, he made two costly mistakes. First, he attempted to trade Cardinal legend, Stan Musial. Cards fans didn't like that; but they'd had heroes traded before. Much worse, Lane removed the famous "birds on the bat" from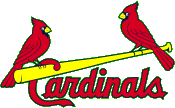 Cardinal uniforms. That was too much for the fans who let their feelings be known, and Gussie Busch stepped in. Lane left, Musial stayed, and the birds returned to the jerseys.
I've read somewhere that St. Louis ranks around twentieth in market size for major league cities, yet the Cardinals consistently rank in the top three to five when it comes to yearly game attendance. The city's population is only a little over 300,000, yet the Cardinal draw well over 3 million in annual attendance. How can that be? Does every St. Louisan attend more than ten games each year? Not hardly. The license plates in the Cardinal parking lots on game day are not just from Missouri, there are thousands from Iowa, Illinois, Indiana, Kentucky, Tennessee, Mississippi, Arkansas, Oklahoma, and Kansas. The Cardinal Nation doesn't end at the city limits; it extends far beyond the entire metropolitan area. While the term Red Sox Nation has been in use about five years longer than the term Cardinal Nation, the Cardinal Nation has been around far longer. It originated in the early 1930s, and by 1950 St. Louis had, by far, the largest fanbase in terms of size and area of all 16 major league teams. 13 of those 15 other teams were concentrated in the northeast and nothern Midwest roughly stretching along an arc from Boston to Chicago. The Cardinals were the home team for most of the American central midwest, deep south and southeast, but that wasn't simply by default.
Long before XM Radio, KMOX—whose listening area was known as the 49th State back in the 1930s—aired Cardinal broadcasts throughout the Midwest that, on most nights, could also be heard coast-to-coast.
(In fact, KMOX broadcasts are regularly picked up as far away as New Zealand, Antarctica, and the Mediterranean.) The team's extensive farm system that stretched across the country created nationwide support as well.

Cardinal's General Manager, Branch Rickey, established that legendary system in 1919 when he purchased the Houston Buffalos, and by 1940, thirty-one minor league clubs--primarily from the central, western, and southern states--were feeding players to the Cardinals. Naturally, fans of those teams followed their favorite players as they advanced to play in the majors at St. Louis. Just as importantly, the Cardinals were winners.
The Cardinals won 9 National League pennants and 6 World Series Championships between 1926 and 1946
.
Despite major league baseball's subsequent expansion and diffusion throughout the country, and the
drastic reduction of the Cardinal farm system
, Cardinal Nation is still the largest baseball fan base in the country. While teams in Atlanta, Florida, and Texas have made deep cuts into the Cardinal's traditional territories, Cardinal Nation continues to thrive. Cardinal games routinely sell out and Busch Stadium is a sea of red-clad fans, a phenomenon that
The Sporting News
has observed first began in the early 1980s.
Between 1997 and 2006, the Cardinals drew over 3 million fans to the ballpark eight times
; only the Yankees, Dodgers, and Giants can match or better that mark.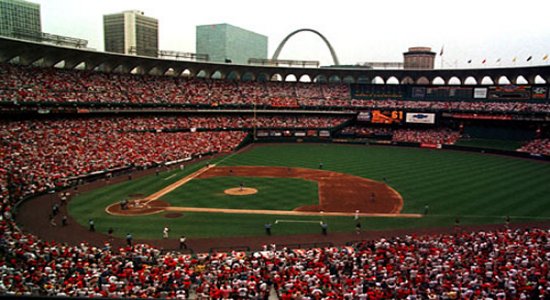 The famous sea of red at Busch Stadium

There's been a considerable expression of angst among Cardinal fans since the team announced it was would dissolve its long-time partnership with KMOX partnership in 2005, and I can understand why. The Cardinals-KMOX relationship began back in 1927 and, with the exception twelve years from 1941 to 1953, had continued ever since. I too share the memories of older fans across the country who recall sitting in their cars (for better reception) on summer evenings, fine tuning the radio to 1120AM to bring in distant and sometimes static-filled broadcasts; I've done that while living in California, Michigan, Texas, and Maryland, and Georgia. But, I can also see how those 50,000 watts have been overtaken by events. Now, you can punch up crystal clear radio and television broadcasts from MLB.com, XM Radio, and Fox Sports, as well as
over 130 Cardinal-affiliated radio and tv stations
that still broadcast games throughout the old "49th State" listening area.
What more could a Cardinals' fan ask for?
Well, maybe that Jack Buck was still at the microphone.
---
For more information: