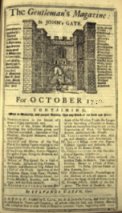 Another song that was inspired by the Stamp Act and Declaratory Act was

The Old Woman Taught Wisdom

. When it was first published in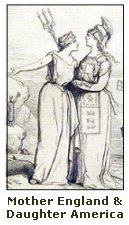 London's

Gentleman's Magazine

in 1767, the anonymous author stated that his song was "an humble attempt to reconcile the parent and her children, made by a peacemaker to Great Britain and her Colonies."

Like many of the liberty songs, it was based on an old tune; this one was originally used for a song popular with the Cavaliers in the English Civil War,

The World Turned Upside Down

, whose multiple verses lamented the prohibition against celebrating Christmas in traditional English manner following Oliver Cromwell's victory at Naseby in 1645. The first verse of that song reads:



Listen to me and you shall hear,
news hath not been this thousand year:

Since Herod, Caesar, and many more,
You never heard the like before.

Holy-dayes are despis'd, New fashions are devis'd.

Old Christmas is kickt out of Town.

Yet let's be content, and the times lament,
You see the world turn'd upside down.


With Cromwell's defeat in 1560, the old lyrics fell out of use and were replaced with a new set in

The King Enjoys His Own Again

, celebrating the return of the monarch. Interestingly, the New England Puritan's continued to ban the celebration of Christmas, and Massachusetts actually criminalized its observance. The first verse of

The King Enjoys His Own Again

reads:


What Booker [a famous, contemporary astrologer] can prognosticate
Concerning Kings or Kingdoms fate,
I think myself to be as wise
As him that gameth on the skies.
My skill goes beyond the depths of a pond
Or river in the greatest rain,
Whereby I tell all things will be well
When the King enjoys his own again


Although originally published in London, The Old Woman Taught Wisdom, became a popular song in America.

---
The Old Woman Taught Wisdom
(to the tune of
The World Turned Upside Down/The King Enjoys His Own Again
)
Goody Bull and her daughter together fell out,
Both squabbled, and wrangled, and made a - rout,
But the cause of the quarrel remains to be told,
Then lend both your ears, and a tale I'll unfold.

The old lady, it seems, took a freak in her head,
That her daughter, grown woman, might earn her own bread:
Self-applauding her scheme, she was ready to dance;
But we're often too sanguine in what we advance.

For mark the event; thus by fortune we're crossed,
Nor should people reckon without their good host;
The daughter was sulky, and wouldn't come to,
And pray, what in this case could the old woman do?
In vain did the matron hold forth in the cause,
That the young one was able; her duty, the laws;
Ingratitude vile, disobedience far worse;
But she might e'en as well sung psalms to a horse.

Young, froward, and sullen, and vain of her beauty,
She tartly replied, that she knew well her duty, That other folks' children were kept by their friends,
And that some folks loved people but for their own ends.

Zounds, neighbor! quoth Pitt, what the devil's the matter?
A man cannot rest in his house for your clatter;
Alas! cries the daughter, here's dainty fine work,
The old woman grown harder than Jew or than Turk.

She be -, says the farmer, and to her he goes,
First roars in her ears, then tweaks her old nose,
Hallo, Goody, what ails you ? Wake ! woman, I say;
I am come to make peace, in this desperate fray,

Adzooks, ope thine eyes, what a pother is here !
You've no right to compel her, you have not, I swear;
Be ruled by your friends, kneel down and ask pardon,
You'd be sorry, I'm sure, should she walk Covent Garden.

Alas! cries the old woman, and must I comply?
But I'd rather submit than the huzzy should die;
Pooh, prithee be quiet, be friends and agree,
You must surely be right, if you're guided by me.

Unwillingly awkward, the mother knelt down,
While the absolute farmer went on with a frown,
Come, kiss the poor child, there come, kiss and be friends!
There, kiss your poor daughter, and make her amends.

No thanks to you, mother; the daughter replied:
But thanks to my friend here, I've humbled your pride.