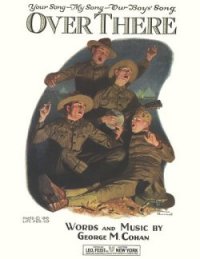 ---
Illuminations Home

Military Songs



The Revolution & Before



The Wabash to Mexico City





Civil War


Indian Wars


Spanish-American War


World War One


World War Two


Cold War


Vietnam War


Global War on Terror
---
Illuminations, Epiphanies, & Reflections

Military Songs

American Revolution and Before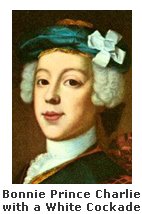 With the Declaration of Independence, much of colonial music shifted in theme and became more martial in character. Additionally, existing songs and tunes that were anti-British became popular. The most famous example is "John Highland Man," or "The White Cockade." Between 1688 and 1746, there were a series of primarily Scottish uprisings in Britain, known as the Jacobite Rebellions, that attempted to restore the Stuart dynasty to the throne. Jacobite forces wore tartans, and adopted a white cockade worn on a blue bonnet as their emblem after Bonnie Prince Charlie was said to have pinned a wild white rose to his hat as he marched his army towards Derby on the way to London. During the rebellion, "John Highland Man," based on a tune from the mid-1600s, became a popular subversive song in Scotland and was played by fifes and bagpipes while marching into battle. (Robert Burns later, in 1776,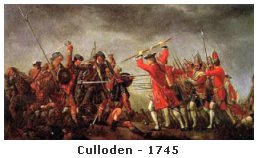 wrote new lyrics to the tune, which he titled, "My Love Was Born in Aberdeen; his work was re-titled "The White Cockade" upon re-publication in 1790.) Although the Jacobite Rebellions ended in 1745 with the battle of Culloden, when after the Scottish forces were defeated by the British, the Duke of Cumberland--to the everlasting shame of the British Army--spent two days personally leading his men in the butchering of all prisoners and wounded before marching into Scotland to imprison and execute as many Jacobite supporters as he could locate. Unlike the rebellion, the tune lived on and became popular throughout the American colonies in the years preceding the Revolution.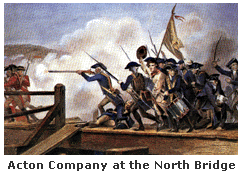 An eyewitness account claims that Captain Isaac Davis's Acton Minute Company played the tune on 19 April 1775 as it briskly marched past Widow Brown's Tavern on the way to Concord. Although not verified by written records of witnesses or participants, the company is said to have continued playing the tune as it engaged the "The King's Own Regiment" of British regulars on the North Bridge.

---
John Highland Man

(

The White Cockade

)
Traditional Lyrics:
A Highland lad my love was born,
the lowland laws he held in scorn,
but he still was faithfu' to his clan,
My Gallant, braw John Highland man!

With hi philibeg an' tartan plaid
An' guid claymore down by his side,
The ladies' hearts he did trepan,
My gallant braw John Highland man!

But Och, they catch'd him at the last
And bound him in a dungeon fast.
My curse upon them every one,
They've hanged my braw John Highland man.

There is not a lad in a' the lan'
Was match for my John Highland man!

Lyrics by Robert Burns in 1790:
My love was born in Aberdeen,
The boniest lad that e'er was seen,
But now he makes our hearts fu' sad,
He takes the Field wi' his White Cockade.

Chorus:
O he's a ranting, roving lad,
He is a brisk an a bonny lad,
Betide what may, I will be wed,
And follow the boy wi the White Cockade.

I'll sell my rock, my reel, my tow,
My gude gray mare and hawkit cow;
To buy mysel a tartan plaid,
To follow the boy wi the White Cockade.

Chorus