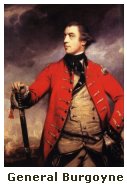 Following the British victory at Fort Ticonderoga, Gentleman Johnny Burgoyne sailed down Lake Champlain and then headed his army of 3,300 British redcoats, 3,900 Hessians, 650 Canadians an untold number of Tories, and over 1,000 Iroquois Indian allies, cross country toward Albany, New York, in an attempt to link up with General Howe, secure New York for the Crown, and cut-off New England from the rest of the colonies.
It was a good plan, but unfortunately for Burgoyne, his large and sluggish baggage train, which included over thirty wagons of his personal clothes and numerous cases of champagne, had to pass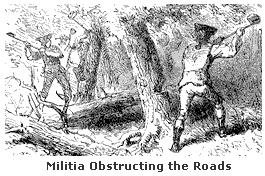 over narrow forest roads, which were barricaded by intentionally felled trees along much of the route. This slow advance allowed the American General, Horatio Gates, to rally support of the militia throughout the New York countryside. Additionally, General Washington sent a force north that included Colonel Daniel Morgan's 11th Virginia Regiment of sharp shooting riflemen and was led by his most able field commander, General Benedict Arnold. The colonial militia successfully stopped the advance of Burgoyne's Iroquois allies, so by the time Burgoyne reached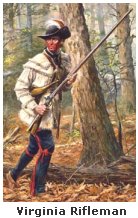 Freeman's Farm at Saratoga on 19 September 1977, his force was outnumbered two to one by the Americans.
After a major skirmish at the farm in early September when the British accidentally encountered Morgan's riflemen who were clearing some woods, the British halted to lick their wounds. Three weeks later, Burgoyne mounted a major assault at Bemis Heights. There his Hessian and Canadian forces were routed. Although he had no orders to do so, Arnold then engaged the British regulars led by Burgoyne's second-in-command, General Simon Fraser. Arnold ordered Morgan to have his sharpshooters concentrate their fire on British officers, and British resistance collapsed when one round brought down General Fraser as the Continental infantry, personally led by Arnold crashed into the line of redcoats.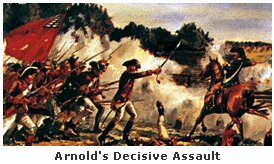 The following day, Burgoyne surrendered his remaining force of approximately 5,800 men. The British had lost an entire 9,000 man army, and the Americans had ensured that North would not again be threatened during the war.
The
Saratoga Song
, which was variously known as the
Burgoyne Campaign
,
North Campaign, Gates' Song
, and
A Song for the Redcoats
, has been attributed to a private in Colonel Brooke's Regiment. It was written shortly after Burgoyne's surrender on 17 October 1777 and soon became a favorite of the American soldiers. The verses of the song follow the entire course of the campaign.
---