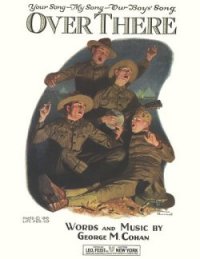 ---
Illuminations Home

Military Songs



The Revolution & Before



The Wabash to Mexico City





Civil War


Indian Wars


Spanish-American War


World War One


World War Two


Cold War


Vietnam War


Global War on Terror
---
Illuminations, Epiphanies, & Reflections

Military Songs

American Revolution and Before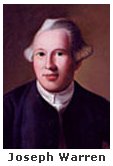 Shortly before the Battle of Bunker (actually Breed's) Hill, Dr. Joseph Warren, a leader in Boston's patriotic circle, wrote the words to this song. A Son of Liberty, Warren played an active role in communicating America's position to the French and other governments, as well as convincing the Continental Congress to offer stiff resistance to British limitations on colonial freedoms.

In mid-April, 1775, after he received reports of the British intent to move their force beyond Boston, he dispatched Paul Revere and William Dawes to notify the militias of Lexington and Concord. The following day, he led a militia unit as they harassed the retreating British column.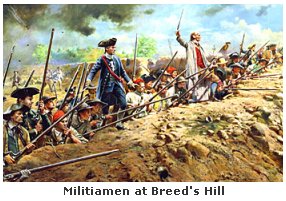 Warren was soon appointed by the provisional Massachusetts government to the rank of Major General, however the order had not yet taken affect on the eve before Bunker Hill, so Warren served as a volunteer private under the command of General Israel Putnam and Colonel William Prescott. He fought in the front lines throughout the day until the third British assault when he was shot in the head. The battle, of course, was a pyrrhic victory for the British who accomplished their immediate objective but at the cost of more than 1,000 casualties and a resounding loss of confidence. Following the battle, Walter Laurie, the British Captain whose unit had been defeated at the Old North Bridge, proudly reported that he personally located Warren's body and "stuffed the scoundrel with another rebel into one hole, and there he and his seditious principles may remain," however Warren's remains were eventually recovered and buried in his family vault.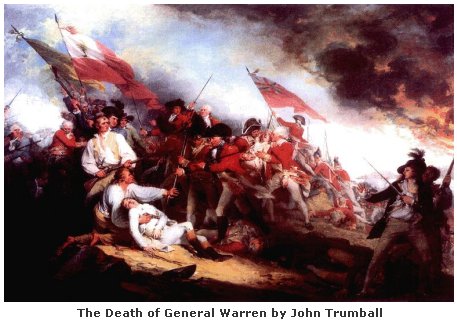 Warren composed the lyrics of

America Free

to be sung to an old tune that had served as a marching song for British grenadier units since the 16th century and was commonly known as

The British Grenadiers

.


---
Free America
(to the tune of The British Grenadiers)

That seat of science Athens,
And earth's proud mistress, Rome,
Where now are all their glories
We scarce can find a tomb.
Then guard your rights, Americans,
Nor stoop to lawless sway,
Oppose, oppose, oppose, oppose
For North America.

We led fair Freedom hither,
And lo, the desert smiled,
A paradise of pleasure
New opened in the wild;
Your harvest, bold Americans,
No power shall snatch away,
Huzza, huzza, huzza
For free America.

Torn from a world of tyrants
Beneath this western sky
We formed a new dominion,
A land of liberty;
The world shall own we're masters here,
Then hasten on the day,
Huzza, huzza, huzza, huzza
For free America.

Proud Albion bow'd to Caesar,
And numerous lords before,
To Picts, to Danes, to Normans,
And many masters more;
But we can boast, Americans,
We've never fallen a prey,
Huzza, huzza, huzza, huzza
For free America.

God bless this maiden climate,
And through its vast domain
May hosts of heroes cluster
That scorn to wear a chain.
And blast the venal sycophant
That dares our rights betray;
Huzza, huzza, huzza, huzza
For free America.

Lift up your hands, ye heroes,
And swear with proud disdain,
The wretch that would ensnare you
Shall spread his net in vain;
Should Europe empty all her force,
We'd meet them in array,
And fight and shout, and fight
For North America.

Some future day shall crown us,
The masters of the main,
Our fleets shall speak in thunder
To England, France, and Spain;
And the nations over the ocean spread
Shall tremble and obey,
The sons, the sons, the sons,
Of brave America.