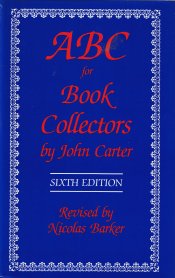 ---
---
Illuminations and Epiphanies

Book Collecting

References



Essentials - The Ahearn's

Collected Books

is the single best book collecting reference on the market today and is considered the standard one-volume guide by even the most sophisticated of collectors and dealers. There is no comparable reference to Carter's

ABC for Book Collectors

, which explains the language of books and book collecting; it's the first book any new collector should read--cover to cover. McBride's pocket guides are indespensible when out hunting for new acquisitions.

General - Nicholas Basbanes is the most prolific and most interesting commentator writing about book collecting today; all of his books make for great reading, but the two below are my favorites. At

Home with Books

is a wonderful pictorial study of how truly bitten collectors have aesthetically managed to incorporate their collections into their home life. Both

Instant Expert

and

Book Finder

are fine general references, especially for a prospective book scout.

Banned Books

is published annually by the American Library Association and keeps abreast of those do-gooders who want to control what you should and should not read. Three of the best general books about the history of the book are

The Coming of the Book

,

The Art & History of the Book

,

and

The Smithsonian Book of Books

. Finally, if you anticipate being stuck alone on a desert island, you may want to establish a collection based on the recommendations in

The List of Books

,

The Lifetime Reading Program

, and

The Well-Educated Mind

; these three books are the most comprehensive, annotated guides to the great books, both fiction and non-fiction.





Antiquarian - No collector of antiquarian books should be without

Printing and the Mind of Man

. Although the book was based on two exhibitions that highlighted the aesthetics and technology of printing through the ages, the true value of this standard reference is its comprehensive cataloging of works that were most instrumental in advancing knowledge. Darlow's

Historical Catalogue of the Holy Scripture

is by far the most comprehensive

Bible

reference, but it's rather pricey and the Throndike and Rumbal texts may well fill the bill for most collectors. Bernard's

Antiquarian Books

is an encyclopedic dictionary focusing on antiquarian book collecting.


Autographs - The

Sanders Price Guide

is the most comprehensive autograph guide available and considered by most collectors to be invaluable as it is the most comprehensive autograph reference available. Two words of caution, though, it does not include sports autographs and some collectors believe that the catalog prices are somewhat inflated. If you are looking for a sports autograph reference, they are covered in a separate Sanders guide.


Book Care, Book Repair, & Bookbinding - Greenfield's ABC of Bookbinding is unique in its presentation of all things related to books' structure and bookbinding, containing over a thousand entries and 700 illustrations. Both of the titles discussing book care are excellent, each providing advice on the storage and handling of books, protecting books from damage, basic book cleaning, and minor repairs.


Children's Books - Each of these titles is considered to be the standard reference work in its specialized area.


Ephemera - Both of these references provide excellent overviews of ephemera collecting.




Fiction - For my money, the Ahearn's Author Price Guides are the best references around. You used to be able to buy all of them on a CD, but now I think you can only download individual author files. The BAL is the standard bibliographic work on American authors, but it is quite pricey. Some folks like Zempel's First Edition better than the McBride pocket guides; perhaps it is a little more thorough, but the McBride's are easy to carry with you. The other titles in this section are the standard references in their in their specialized areas.




Illustration - Each of these titles is a classic illustration reference.


Maps - I know that it's expensive, but Manasek's Collecting Old Maps is the single best reference work for a map collector. If your new to map collecting, read it cover to cover.