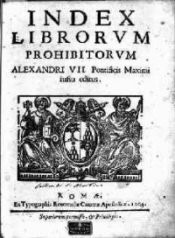 ---
---
Illuminations and Epiphanies

Banned Books
The Most Challenged Books of 2012


Each year during its Banned Book Week celebration, the ALA releases a list of the most "challenged" books of the year. Throughout the year, it has a very active program to collect and record these challenges, and it does an excellent job of documenting each time anyone reports that someone has requested a governmental authority--including school boards, teachers, principals, librarians, city councils, etc.--ban access to a book, restrict access to a book, require a child to have signed parental permission to look at a book, stop a book from being read to a class by a teacher, use an alternate textbook, remove a book from a required reading list, or take any similar action.

Most challenges occur in public schools, generally either as objections to the type of material made freely available to young children in elementary schools or as attempts to have books removed from mandatory reading lists. While clearly any prohibition by a governmental authority to keep a book out of a public setting--including a school--is censorship and is in opposition to the First Amendment of the U.S. Constitution, this seldom, if ever, occurs. Often, individuals or organizations will rail against perceived censorship when it may not have really occurred; the line is not as clear as one might at first think.

For example,

When funds are limited and librarians or others make decisions not to purchase a book, or to purchase one book instead of another, is that censorship?


When librarians or others make a decision to add or not to add a book to the library collection based on the their professional assessment of the needs or the expressed desires of their supported communities or schools, is that censorship?


If a teacher takes the feelings or beliefs of students into consideration when determining which books to add or not to add to a required reading list, is that censorship?


What if a teacher selects only books that demean a certain race or religion or promote only one particular brand of political or economic thought for assigned readings, is that censorship?


What if this occurs and parents subsequently object, are they attempting to prevent a teacher from exercising "academic freedom" or First Amendment rights? (Actually, the extablished law is fairly clear in this instance. In the United States, school teachers have no claim to "academic freedom," as that term is defined by the "1940 Statement of Principles on Academic Freedom and Tenure" which has been upheld by the U.S. Supreme Court; "academic freedom" is reserved for tenured professors at regionally accredited universities.)


Should these types of questions concern us, especially in light of the "culture war" that rages today? I personally think so, even if I don't always agree that they are usually First Amendment issues. A teacher's attempt or an instituition's attempt to mold the thoughts of students into any particular point of view rather than teaching them to critically evaluate a variety of viewpoints is a far more dangerous than a wacko parent who objects to a health text because it fails to recommend "Christian prayer" as a method of preventing stress.

So, if we should be concerned about possible challenges to First Amendment rights as they play out in public schools and libraries, how big is the actual problem? Well, based on the records maintained by the ALA, the outright prohibition or banning of a book by any governmental authority in the United States almost never occurs, and challenges are incredibly infrequent as well. In the eleven years between 2001 through 2010, the ALA received 4,659 reports of books being challenged. That equates to an average of just under 460 challenges per year.

As there are approximately 17,900 public school districts or similar public agencies in the United States, this equates to approximately 1 challenge per year for every 39 school districts.

As there are approximately 98,800 public schools in the United States, this equates to approximately 1 challenge per year for every 214 schools.

As there are approximately 49,400,000 public school students in the United States, this equates to approximately 1 challenge per year for every 107,390 students.

Clearly, in the United States, very few citizens are initiating any of the actions that result in the ALA recording a challenge, much less requesting the outright banning or prohibition of any book. Still it's worth knowing not only what books some folks challenge, but also why they the challenge them. The list below identfies the books that the ALA reports being most frequently challenged books in 2012.

---

The American Library Association's List of the Top Ten Challenged Books of 2012




1.

Captain Underpants

(series) by Dav Pilkey.
Reasons: Offensive language, unsuited for age group. In the past, it has also been challenged for insensitivity and encouraging children to disobey authority.

Captain Underpants is the most popular children's book series in the world with over fifty million books in print. The series is about a superhero from a favorite comic book of two fourth-graders who accidentally becomes real.

Interestingly, although this series ranks at the top of the ALA books list, the most recent ALA "Books Challenged or Banned" brochure, identifies no specific instance of any title from the series as being challenged, restricted, moved, or banned between May 2012 and May 2013.


---



2.

The Absolutely True Diary of a Part-Time Indian

by Sherman Alexie.
Reasons: Offensive language, racism, sexually explicit, unsuited for age group.

This book is a cartoon-illustrated first-person coming-of-age narrative by a native American teenager.

The two most significant challenges have come from parents in Westfields, New Jersey, who asked that the book be removed from a required freshman reading list because they believed it to be racist, religiously irreverent, offensive (by using the words 'fuck' and 'nigger'), and encouraged pornography by refering to masturbation. The was similarly challenged in a school district in Yakima, Washington.


---



3.

Th1rteen R3asons Why

, by Jay Asher.
Reasons: Drugs/alcohol/smoking, sexually explicit, suicide, unsuited for age group.

This book was a 2007

New York Times

best-seller and the paperback edition reached #1 in 2011. "When Clay Jenson plays the casette tapes he received in a mysterious package, he's surprised to hear the voice of dead classmate Hannah Baker. He's one of 13 people who receive Hannah's story, which details the circumstances that led to her suicide. Clay spends the rest of the day and long into the night listening to Hannah's voice and going to the locations she wants him to visit. The text alternates, sometimes quickly, between Hannah's voice (italicized) and Clay's thoughts as he listens to her words, which illuminate betrayals and secrets that demonstrate the consequences of even small actions." - Booklist

Again, although the ALA has this book high on its list, the most recent ALA "Books Challenged or Banned" brochure, identifies no specific instance of it as being challenged, restricted, moved, or banned between May 2012 and May 2013.


---



4.

Fifty Shades of Grey

by E. L. James.
Reason: Offensive language, sexually explicit.



Fifty Shades of Grey

is a world-wide, best-selling BDSM (bondage/discipline, dominance/submission, and sadism/masochism) novel that has sold over 70 million copies despite mostly negative reviews, many of which claim it to be of poor literary quality.

"The book was pulled [for apparently undocumented reasons], but later returned to the Brevard County, Fla. public libraries' shelves 'in response to public demand.' The racy romance trilogy is particularly popular
among middle-aged women. Despite
overwhelming demand and long wait lists
for library copies, some other libraries
across the country are refusing to acquire the book." - ALA


---



5.

And Tango Makes Three

by Peter Parnell and Justin Richardson.
Resons: Homosexuality, unsuited for age group.

This is a popular children's book based on the true story of two male penguins, Roy and Silo. It chronicles six years of their lives at New York's Central Park Zoo when they formed a couple after being given an egg to hatch and raise. One of the author's has noted that "[Although,] we wrote the book to help parents teach children about same-sex parent families. It's no more an argument in favor of human gay relationships than it is a call for children to swallow their fish whole or sleep on rocks."

Again, although the ALA has this books high on its list, the most recent ALA "Books Challenged or Banned" brochure, identifies no specific instance of it as being challenged, restricted, moved, or banned between May 2012 and May 2013.


---



6.

The Kite Runner

by Khaled Hosseini.
Reasons: Homosexuality, offensive language, religious viewpoint, sexually explicit.

This critically acclaimed best seller was the first novel published by its Afghani-American author. It tells the story of a young boy's friendship with his servant during the Afgan upheaval. It is especially critical of the Taliban and paints a vivid picture of its theocratically supported stonings, ethnic rape, and forced pedophilic-homosexual prostitution. In response to Afghani criticism of his work, Hosseini has replied, "They never say I am speaking about things that are untrue. Their beef is, 'Why do you have to talk about these things and embarrass us? Don't you love your country?'"

The novel has been challenged as an optional reading in a tenth-grade honors class at Troy, Pennsylvania schools because the novel depicts a rape in graphic detail and uses vulgar language.


---



7.

Looking for Alaska

by John Green.
Reasons: Offensive language, sexually explicit, unsuited for age group.

This young adult novel delves into personal relationships and the reasons that might have been behind the possible suicide of a beautiful but wildly unpredictable yet moody and self-destructive young woman.

The book was challenged as an optional 11th grade reading assignment by parents at a high school near Buffalo, New York, as being "pornographic" and "disgusting," however it was retained in the curriculum by a unanimous vote by the school board. The ALA also notes that it was not included on a required reading list--though apparently not forbidden to be read--at a high school in Sumner County, Tennessee.


---



8. The

Scary Stories

series by Alvin Schwartz.
Reasons: Unsuited for age group, violence.

Alvin Schwartz was a first-rate folklorist who collected and compiled America's scariest ghoststories and urban legends. The well-researched and annotated stories are both terrific and terrifying. The books have been expertly illustrated as well by Stephen Gammel, and I suspect that his macabre drawings have as much to do with these books being challenged as the stories themselves.





Although the most recent ALA brochure does not list any specific challengesthis series, objections have come primarily from parents who have asked libraries to restrict these books so that they are available only to older patrons and students. Some challenges from religious fundamentalists have requested they be removed from libraries.




---



9.

The Glass Castle

by Jeanette Walls
Reasons: Offensive language, sexually explicit.

This book, a true memoir by the author about her poverty-stricken childhood while being raised by dysfunctional, alcoholic, and mentally ill parents, was on the

New York Times

best seller list for over 260 weeks.

It was removed, but later reinstated, as an assigned reading in a 9th grade honors class in Traverse City, Michigan. A challenge to the book was also rejected at a high school in McPherson, Kansas.


---



10.

Beloved

by Toni Morrison.
Reasons: Sexually explicit, religious viewpoint, violence.

Tony Morrison's very complex, Pulitzer Award winning novel is loosely based on a true narrative of an escaped slave, Margaret Garner, who murdered her two young children to prevent them from the possibility of being captured and returned to slavery. In Morrison's tale, a daughter, whom the mother murdered with a hacksaw to "save" her from a life of slavery, returns to seek revenge and dominate her mother's life.

The book was been challenged--but retained-- in an Advanced Placement class in Salem, Michigan. A similar challenge was also made in Fairfax, Virginia.